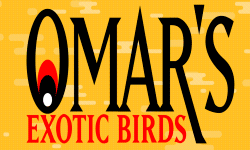 LAKE FOREST
23507 El Toro Rd.
Lake Forest, CA 92630
BREA
903 E. Imperial Hwy.
Brea, Ca 92821
STORE HOURS
M-F: 10am - 7pm
SAT: 10am - 6pm
SUN: 10am - 5pm
Babies in the Stores
All OMAR'S birds come with a health guarantee and free grooming as long as you own the bird.
In addition to the birds listed here, we also carry a selection of Softbills such as Canaries and Lady Gouldian Finches.
This list is updated weekly, but with birds selling daily, we suggest you call first to check availability. You will also need to find out at which location your bird is being cared for, since they are sometimes rotated between stores.
Please Note: If prices are listed, they may have typographical errors and prices are subject to change without notice. Special prices may be limited to certain birds and quantities in stock.
Some of the birds below may be sold due to deposits being made prior to this list. Please check with the store manager for availability. A $300 deposit will hold the bird for you until it is weaned (exceptions may apply).